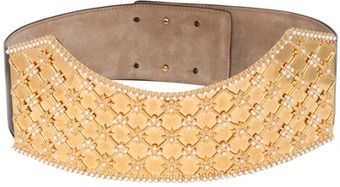 Alexander McQueen
Pearls Motives Metal Plaque Leather Belt
Source: Lyst.com
Isn't it time for you to breathe life and glamour into your fall wardrobe? Well, it definitely is!
You can do this by replacing your skinny belts of summer with this luxurious etched metal and micro-pearl waist belt by Alexander McQueen.
Your waistline will surely appreciate it, and so will your friends!